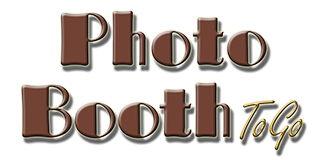 Est: 2008

Superior Photo Booth Rentals
1124 Riviera St. Jacksonville, FL 32207 (904) 398-7668
(located in Jacksonville's historic San Marco area --just south of downtown)

"You'll bust out laughing, grab your friends and do it again!"
info@danharrisphotoart.com

As seen at only the BEST events!
Ours is NOT a typical boring 2-person photo booth!
Including: Slow Motion, GreenScreen & RedCarpet Events.



Large Groups? No Problem!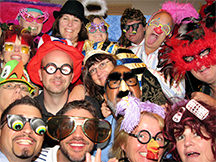 Notice that everyone is "in focus" (from front to back*)
Choose from 30+ different background colors!
FREQUENTLY ASKED PHOTO BOOTH QUESTIONS:

1- What is the largest group you've had in your photo booth where you can still see everyone's face and they are all in focus? The current record is 15 adults (set 10/04/10 -see picture above). Our intimate 4'x4' photo area (if you don't push the curtain out) is very practical for groups of 2-6 and requires some clever positioning to capture everyone in a group of 7-15!

2- Why is your photo booth better with group shots? Many photo booths only have one fixed seat or bench (designed for a single-person headshot) and don't do well with groups of more than 2 people as the third person's head gets cut in half. Our adjustable 2-seat booth accommodates larger groups (2, 3, 4 or 6+ people) which is not only more fun, but can handle more people in less time.

3- Can our guests choose different colors or types of printouts at our event? Yes, they can choose Color, Black & White, Browntone or Sketch /Negative. It's their personal preference with the press of a button OR we can setup the booth to print 2 strips, one Color and one Black and White or different types of printouts or we can disable this option so all the printouts are the same -It's your choice.


4- What makes your photo booth more entertaining and more fun? Guests standing outside the photo booth can view the TWO external monitors showing the action on the inside of the booth (including live feed LCD monitors). It is extremely entertaining even for non-participating spectators! We can also provide props and message boards for unique photo looks.
5- Can I save a lot of money with DIY? If your time isn't worth anything. The quality, reliability and guest experience with DIY will be sub-par. Many of the inexpensive apps available online are only designed for occasional consumer use, NOT constant use at events. If you count the time and materials needed to create a 'professional' photo booth experience you can get much better 'guaranteed' quality (at a lower price) from an experienced professional. What happens when in the middle of your reception, your DIY equipment malfunctions? Are you going to be spending the majority of your reception trouble-shooting computer glitches or celebrating with your guests? Here's a better DIY option.
6- My event photographer said she can setup a "photo booth", how is that different? Does it take pictures automatically or is it just a DSLR camera on a stand with a trigger? Do you get instant prints or are the images only viewable on a website? Is there really a booth? or just a photo station area. Does it have live feed LCD monitors? Can the guests choose their printout colors with the push of a button? For years photographers have setup 'photo stations' at events with backdrops, lights and a DSLR camera. Just recently some have tried to pass this off as a 'photo booth'. It's just not as fun! To avoid disappointment, be sure you understand what you are really getting: "try before you buy."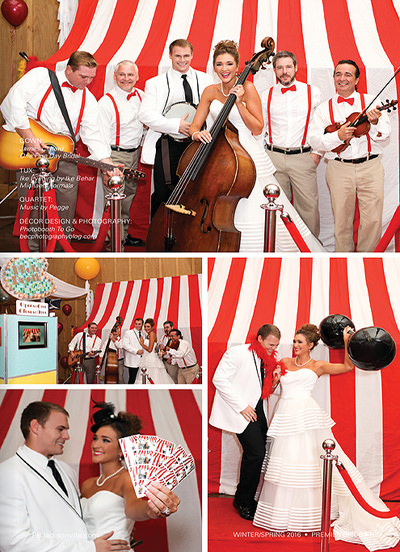 7- Can our guests have instant access to the digital files? Yes, we can setup the booth to instantly upload the digital file at your event so your guests can imediately download it to their computer, mobile device or facebook page. Guests can view all the images as they are being taken. OR we can bring our mobile Kiosk station so guests can scroll through the photos and e-mail their favorites.

8- Do you offer the cheaper 'digital only' photo booth? Occasionally, we include printouts with every standard photo booth booking so your guests can enjoy their photos immediately without the hassle of having to log on to a website later. If your budget is extreemly tight and your date isn't a popular one we can offer a reduced rate for digital only and/or an unmanned photo booth. Or try our DIY option.

9- Do you charge a prop deposit or damage fee? No, we understand that props will accidently get damaged by your guests, that's beyond your control, so we don't use it as an excuse to charge you extra money! Standard prop usage comes with every booking. You can pay a $50 rental fee for premium props which would cover the costs of accidental damage.

10- Can your photo booth take 6 pictures or do video? Yes and yes, we can set it up to take 4 pictures or 6 pictures per group at your event. (for no additonal charge) OR we can set it to do video OR BOTH. Remember, 6-pictures will take longer for each group and will shorten the total number of group pictures taken at your event, also with the 6-picture option the photos will print smaller.
11- Can I see the printout options, background colors and guestbook colors? Yes, everything is on our options page. When you fill out the contract just indicate your optional color choices. We will contact you if we have any questions.

12- If we have a really large party can we rent 2 booths? Yes, no problem! We can setup 2, 3 or 4 booths at the same time, near each other or in different rooms, so more people can join in the fun! Booth Styles: Retro / Modern / OpenAir / Port-a-booth / DIY TabletBooth

13- Can your photo booth be delivered upstairs? Yes, no problem! Our photobooth is compact, portable and made To Go! (We have two enclosed models; one that weighs 260 lbs., RETRO BOOTH, --Many photo booths weigh over 700lbs thus limiting their location usability-- the other one, Port-a-Booth, is only 130 lbs and can be dismantled into smaller pieces for easier transportation).

14- What are the quality advantages of your photo booth? Our images are produced with a real digital still camera (not a video /web camera --video-camera photo booths make fuzzy prints) We use quality daylight balanced strobes, (not florecent lights, nobody looks good under florecent lights!) Our image quality allows for reprints up to 11x14" of a single image from your photobooth set.

Enlargements ordered from our event website include retouching, zooming and multiple color options. Our photo booth produces the best quality printout and comes out completly dry in approx. 15 seconds on waterproof paper with a UV coating. (Professional Lab Dye process, not inkjet). These prints not only look incredible, but will last 50+ years --when properly stored.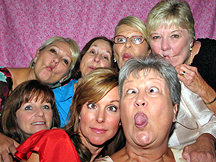 15- Can we make a Music Video & DVD from our images? Yes, Just go to this popular slideshow website and try it out by using the images from the CD from your event. You can post the images to facebook or flicker or use them to make anything you want!

16- Is your photo booth wheel chair accessible? Yes, we move the inside stools so your guests in a wheel chair (or walker) can wheel their own chair into position, gather their family and friends around and join in the fun!

17- How will we know if everyone will fit in the picture? After you press the start button (before each picture is taken) a live view video feed will show you exactly what the camera will record before it takes the picture so your group can adjust their positioning if needed.

18- Does your photo booth use toxic or smelly chemicals? No, it uses a totally modern digital computer process delivering better quality, faster print times and reprintable, waterproof images. Like the original photo booths of yesteryear, our prints will last for several generations.

19- How much space is required? Although our complete enclosed booth fits in an area that is only 6'D x8'W you will want to plan space for lines, the guest-book signing table and props table, etc. Our Open-Air setup requires more space approx. 10 x10'

20- Will your booth fit through a regular door? Yes, our booth fits through a standard 30" door. We also have a booth that breaks down into pieces and can fit through a 14" door. (but only the dog has that small of a door!)

21- How do you know when the photo is going to be taken? A countdown (4...3...2...1) will appear on the screen just before the 'Look at the camera' graphic appears and a green light on the camera flashes just before the image is taken.
22- Do my guests have to wait several minutes for their print? No, our photobooth takes less than one minute per group. This reduces the backlog and waiting time for your guests! Inferior printers make your guests stand around for several minutes waiting for their printout. (ink-jet prints are slow and the prints are easily damaged) The original toxic, chemical-based photo booths typically take 4-5 minutes just for the printing alone! Ours prints a waterproof, UV coated, dry dye-sublimation print in approx. 15 seconds after the session is finished.

23- Do you offer green screen backgrounds? Yes, guests can choose their own background OR the photo booth can randomly select one for them, either way they preview the image (with the chosen background) on the live-view screen just before the photo is taken.

24- What's the problem with a booth that requires you to stand instead of sit? The pictures look more like 'prom poses' and show too much of everyone's body. Tall and short people (including children) end up cut out of the picture. It's unauthentic --original photo booths have always had seats and capture facial expressions and head shots, not body shots. But the choice is yours, we offer both.

25- Why should we book a local photo booth company like yours rather than a national chain or out-of-town company? There are several companies offering 'nationwide or statewide' travel, some are using a network of regional suppliers (each with different offerings), others ship a booth over state lines then have a hired tech try to set it up. Hauling or shipping electronics long distances can create technical problems. Many of these suppliers are only middlemen and contract service providers are never as accommodating as a local owner/operator.

26- What are your photo booth rental charges? Pricing for unlimited groups at your event is based on an hourly rate depending on the date, location, number of hours needed and specific additional requirements. At some events we charge by the print. Call or e-mail us for a custom quote. Minimum hours may be required for prime-time, Saturday and weekend event dates or long-distance locations. (See additional details under the pricing tab.)

27- How is the hourly rate billed? Full service is: $220-$500 per hour depending on the date and number of hours needed. We only bill for the hours of operation (which must be contiguous.) There is no additional charge for up to one hour of idle or down time prior to the event when we have the booth setup but not operational. Our DIY tablet booth is onl $300 per 24hours.
28- Is there additional travel charges? Depending on your date and the number of hours you book. No delivery charge for preferred referring locations and (wheelchair accessible) locations within a 40-mile radius of downtown Jacksonville, Florida. (Additional miles are charged at $1 each -one way- within 150 miles of Jax). Contact us for specifics regarding your date and location.

29- What do you require for booking the photobooth? A 50% retainer (or $250 whichever is greater) with the contract holds your date. The full balance is due 30-days before your photo booth event. We accept all major credit cards. Call and we will send you a copy of our contract.

30- Can we get a guest book or scrapbook of our event? Yes, there is a $80 additional charge for complete guestbook services including: the guestbook, as many pages as needed, assembly and duplicate prints at your event --one for the guest and one for the book. Our on-site associate will assist in glueing the strips and assembling the book during the event so it will be completed by the end. You can choose from 22 different guestbook colors (which can be seen under the options tab, Call or e-mail us for more info.)

31- Will our guests have plenty of room to write in the guestbook? Yes, we don't crame 4 sets of pictures on a page (two max). This insures plenty of room if someone wants to write a lot or very large words next to their picture. We also bring plenty of extra pages to insure everyone gets in the book. We don't limit the number of pages or charge extra if more pages are needed.

32- Can I get the original camera images? Yes, the original digital print files come free with your booth. You can choose to purchase the complete set of files with all the grids or strips AND the individual HD photo booth camera images. You can see all of the options on our event website at: www.ViewEventPics.com scroll down and click on the Event Name Or checkout the digital copies of the event printouts on facebook: www.facebook.com/photoboothtogo You don't have to be a member of facebook to access these files.

33- Where's the best place to put the photo booth at my event? Just off the dance floor (where the guests can see it) will insure that everyone gets the most use out of it. If you put it in another room (away from the main action) you will have less people using the booth OR everyone will leave the main room and hang out with the photo booth.

34- My event is going to be classy, I'm not sure a photo booth would be appropriate? Did you say classy or stuffy? Many of the most prestigious, elitist events nationwide rent a photo booth. We have been at the finest art galleries, top museums, exclusive country clubs, and nicest hotels in the area.

35- How many hours will I need for my event? It really depends on the number of people in each photo, the number of people in attendance, the type of event, etc. We suggest at least 1 hour per every 80 people if you are using the 4-picture printouts (the 6-picture printouts will take longer). Call or e-mail us to discuss the details and your exact requirements.
36- What are the standard backdrop color choices? Currently we have 30 different colors (see samples under the options link) Teal w/Dots, Lavender, Orange/Blue Tie-Dyed, Fire, Blue, Lime, Forest Green, Orange, Red, Gold/Mustard, Black Damask, Pink, Brown, Tan, Tiger, Green, Grey, 60's Retro, Camo, American Flag, Dark Brown, Flower Power, Royal Gold, Royal Red, Tourquoise & Brown Damask, Tan & Black Damask, Off-white, Midnight Blue, Aqua, Blue Damask , Sports, FSU, FL-GA and Black. We can also provide a custom backdrop.

37- Can you project really large pictures of the photo booth images at my event? Yes, for an additional charge we will project the images on a wall or you can provide a large movie screen or we can bring our large screen LCD TV. The projected images will be the same ones that are viewable from the monitor on the front of the photo booth.

38- Will your photo booth look professional at my event? Yes, our retro photo booth box is made of formica and has a classic vintage feel that is easily identified as a photo booth and the rest is professionally draped in black and dark brown curtains so it softens the typical 'industrial' boxy look which many commercial-style photo booths have. (Our draping doesn't look like shower curtains.) We can bring it an hour early so you or your decorator can embellish it to match the decor of your event.

39- What if we don't want the large flashing sign? No problem, it can be removed. The flashing sign on our Retro-booth is designed to pique the curiousity of people on the other side of the room and has a theatrical 1950's Hollywood /Vegas style look. Better that your guests see the booth and participate than not notice it. Too many 'shower-curtain' booths look more like tanning booths or changing stations and don't attract the attention necissary to really draw a crowd. Currently our Porta-booth doesn't have an electric sign.

40- Can we get customized graphics on our printouts? Sure, you can supply the artwork or pay us to do it for you. Different printouts have different graphic areas and options. Beware: some photo booths put much more emphasis on graphics and less on the pictures. We insure the photos are as big as possible and the graphics complement your theme but don't dominate the printout space. We can purchase and customize fancy printout options from: PhotoBoothTemplates.com

41- Are your large group pictures sharp with everyone in focus? Yes, look at all the image samples on our website of our large groups, you will notice you can clearly see the faces of six or more people in each group from near to far! Also because we use a digital still camera and not a video camera our pictures are nice and crisp.

42- Are your printouts odd sizes that won't fit in our photo albums or standard frames? No, all our printouts are all standard sizes (2x6, 4x6, 2.5x7, 5x7, 8x10, 11x14) so you will have lots of inexpensive options available for: frames, albums, magnetic or acrylic holders, etc.

43- What are Jumbo prints? They are 30% larger than the standard sizes. Same UV coated waterproof quality. The grids are 5 x7" and the strips are 2.5 x7". This is an available option by special request for an additional fee of $50/hr.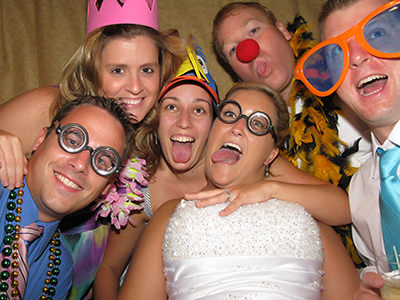 44- Can we get two copies of each print at our event? Yes, our newest option allows you to get a printout for every person in the photo.

45- Do you price match? That only works if you have an exact model number with a list of included options. If our booth was a low-end model we would offer that, but ours is one of the best that others are trying to compete with. We are happy to entertain all offers, but usually we only accept the best one. You get what you pay for.

46- What about the big touch-screen monitors/ 'mirrors' at an event? They are just not as fun (or as intimate) as our photo booth. Some guests will never really cut loose until they get behind our closed curtain! A high-tech station requiring lots of software /device interaction will only appeal to 15% of the 'techno-geeks' at your event, everyone else will be left out. (...besides do you really want to encourage the people physically present at your event to 'zone out' and spend all their time interacting with a computer device in the virtual world?) The pictures from these electronic monitors are often grainy, the headsize is too small and you can see other guests standing around in the background of all your pictures.

47- Can you provide sleeves for our printouts? Some companies using inkjet prints provide vinyl sleeves at trade shows so you won't realize the finish on their printout is still wet and easily damaged. Our printouts come out completely dry (dye-sublimation prints) and with a UV coating so don't require any additional protection. We do offer acrylic and vinyl sleeves with magnets at an additional cost, but they aren't required.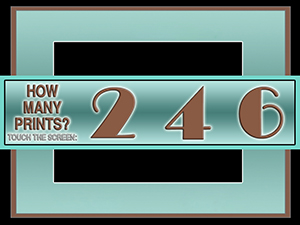 48- I talked to another photo booth company who said their printer can print 50 prints per hour, how many will yours do? Our printer can print over 240 prints per hour! The real question is how long does it take for the first print to be delivered? If you have to wait 1-2 minutes AFTER the session, it can create a lot of dead time with people standing around waiting for prints. Our prints are delivered in approx. 15 seconds after the session is finished! Including double strips. (Double prints of grids or jumbo prints may take as long as 30 seconds.)

49- Can you create a custom designed printout for our event including borders with custom graphics? Yes, custom graphic design is billed at $60. If you want to design it yourself we can give you the design /layout specs and you (or your company's graphic artist) can design the custom artwork for use at your event. Our preference is to have the printouts focus on the people in the photos not a bunch of superfluous graphics, but the choice is yours.

50- If we have life-sized props we want to use at our event, can you setup the booth with a larger area for standing? Yes, because our photo area is curtained (and not part of a hard box) we can reconfigure the curtain area into more of an 'open air' design to accommodate standing props and /or cutouts.

51- Can I choose which props my guests can use at my event? Yes, you can go through our prop box and remove any items you don't want them using, you can also bring some of your own props or when you pay extra you can request specific ones you would like.

52- What is your photobooth made of? Chewing gum and candy wrappers! Just joking... does it really matter? As long as it looks nice and works well at your event. But just so you know ours contains real pine wood, aluminum, quality plywood, some pressboard, real metal, nice fabric, plastic, masonite, plexiglass, copper wires, lots of screws, nails, glue, phenominal electronics, lighted buttons, lights, paint, steel, rubber, wood stain and other assorted natural and man-made materials of unknown origins. (Ours heaviest one only weighs 260 lbs, not 775 lbs of cold, hard steel.)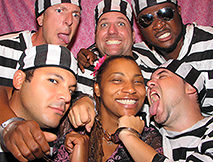 53- What about a photo booth with lots of touch-screen options? Like video recording or e-mail, assorted borders, themes, photo effects and writing messages on the screen, etc. These are perfect at the mall when you have lots of time to make choices, but at an event -all the interactive data entry requirements and decisions eats up all the fun time and limits the number of participants. It's just not as much fun! Although some of our booths use 'touch screens', along with arcade buttons, we limit the options to insure speedy decision-making allowing more people to have more fun. Nothing worse than the 'electronics hog' who ties up the equipment for their own uses not allowing others to play.

54- Can we customize the background and the prints? Yes, we can customize a text graphic for you which can include names, dates, logos, custom colors, etc. on the photo booth prints. We can also customize the backdrop curtain in the photo booth to match the theme of your event or we can print a custom photo background from a digital file to make your unique event truly unforgettable.

55- Another photo booth company was advertising a price 40%-50% less, what does that tell you? You get what you pay for -they know what theirs are worth. Beware: Some advertise a low price initially and then charge a lot for extras, some have a low price for lots of hours, but the cost per person is much greater than ours because theirs runs slow and accommodates less people per hour. Professional quality, digital photo booths with all the options and features like ours costs $12,000 initially and then hundreds of dollars to operate at each event. An inexpensive DIY consumer setup may cost less, but won't perform as well. In the end it won't be as much fun and won't make you (or your guests) as happy. If costs are a high priority for you, check out our friends at www.PhotoBoothJacksonvilleFL.com.

56- Do you accept credit cards? Yes, we accept ALL cards including American Express, Visa, MasterCard, Discover and Diners. Also Cash, Checks and Paypal, but no IOU's!
Booth Styles: Retro / Modern / OpenAir / Port-a-booth / DIY TabletBooth
---
~ Let the laughter begin! ~

~ Satisfaction GUARANTEED! ~ Limited Availability ~
~ Call NOW before someone else books your date! ~
We accept ALL credit cards including: AmEx, Visa, MC, Discover & Diners
Don't delay E-mail or Call 904-398-7668 TODAY --you'll be glad you did!



PhotoBoothToGo is a wholly own subsidiary of: Dan Harris PhotoArt, LLC
1124 Riviera Street Jacksonville FL 32207

Copyright (c) 2020 PhotoBooth To Go a division of: Dan Harris PhotoArt, LLC